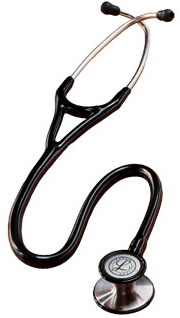 Littmann Cardiology III Stethoscope
Place Secure Order $159.95

Outstanding acoustic performance and exceptional versatility characterize the Littmann Cardiology III stethoscope. The innovative design offers a tunable diaphragm on each side of the chestpiece. The large side can be used for adult patients, while the small side is especially useful for pediatric or thin patients.
---
• Tunable diaphragm technology allows you to conveniently alternate between low and high frequency sounds without turning over the chestpiece. See it in action...

• Solid stainless steel chestpiece.

• Two-in-one tube design eliminates tube rubbing noise.

• Excellent acoustic seal and comfortable fit with patented 3M™ Littmann® Snap Tight Soft-Sealing Eartips.

• Comfortably angled, anatomically correct headset.

• Patient-friendly, nonchill rim and diaphragm.

• Available in a selection of classic tube colors.

• Latex Free (See latex statement.)

• Five-year warranty.

---

"LITTMANN is a registered trademark of 3M Company"
Sunshine Pharmacy
7725 N. 43rd Ave. #311
Phoenix, Arizona 85051
623-931-0457